Listen to Joy Yu Hoffman
This page contains links to sound files containing selected recordings. If your browser is capable of playing mp3 files, then you can click on one of the icons to play or download the music. The dial-up connection links are in mono instead of stereo and are of slightly lower quality.

Play - high-speed connection

Play - dial-up connection

Download mp3 file
These selections are excerpts that are typically around 40 to 50 seconds long and less than 550kb in file size. Please
contact us
if you have any problems playing these selections.
From Joy's first CD, "Ballad"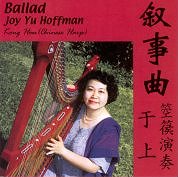 Butterfly Dance 33 seconds / 393kb



Cradle Song 41 seconds / 485kb



Lan Hua Hua 44 seconds / 516kb



Lady Mong Jiang 27 seconds / 321kb



Spring Flowers 43 seconds / 515kb



Mountain Song 33 seconds / 395kb



Ballad of Liang Zhu 37 seconds / 439kb
Purchase

From Joy's second CD, "Blessing"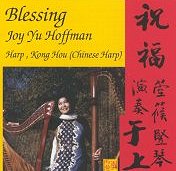 Drunken Dancing Dream 41 seconds / 492kb



The Harvest Is Past 42 seconds / 498kb



The King of Love 34 seconds / 409kb



Flowers in the Field 29 seconds / 346kb



Liu Yang River 40 seconds / 473kb



Old Fisherman 44 seconds / 524kb



One Woman to Another 41 seconds / 482kb



Fishing Boat Song in the Evening 48 seconds / 568kb



Deer Call in the Morning 44 seconds / 519kb



Noon Dancing 33 seconds / 396kb



Sunset Glow 45 seconds / 530kb
Purchase

Wedding, Popular and Holiday Music



Spring from Vivaldi's "Four Seasons" 25 seconds / 305kb



Pachelbel's Canon in D 29 seconds / 349kb



Silent Night 37 seconds / 437kb



Beautiful Dreamer 1:44 / 1228kb



Chopin Etude in Eb (piano solo) 1:16 / 900kb



Evergreen (piano solo) 1:10 / 823kb



Meditation (from Thais) - harp & violin 1:40 / 1176kb



Can You Read My Mind? - harp & violin 1:11 / 837kb



All I Ask of You - harp & flute 1:26 / 1017kb



Carnival of Venice - harp & flute 1:15 / 882kb



If It's Magic - harp & vocalist 1:14 / 871kb