Joy Yu Hoffman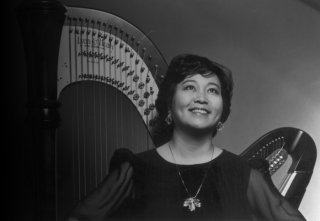 Joy Yu Hoffman was born into a musical family. Her father, Yu Zhong Hai, was a famous musician and music educator in China. She has had a distinguished career as a pianist and harpist both in China and in the United States. She received her Diploma of Harp Performance at the Shenyang Conservatory of Music, a Bachelor's degree from Roosevelt University, and a Master's Degree from Northwestern University. She studied harp under Yue Ping Chieu, Elizabeth Cifani, and Edward Druzinsky. She won first prize for harp performance in the Young Artists Competition in Harbin, China, and also spent twelve seasons as an opera coach at the Harbin Opera Company. During her twenty years in the United States, she won a piano concerto competition and numerous scholarships, both at Roosevelt and Northwestern. She has been on the faculty of Roosevelt University. She is presently teaching at Trinity International University. She performs for the the Lyric Opera of Chicago, Symphonic Pops of Chicago, Illinois Chamber Orchestra, Orchestra of Harper College, and Illinois State University Wind Symphony.
Busy as a symphony musician, soloist, opera and chamber music player, she has performed in live radio broadcasts and has made recordings in the Chicago area. Ms. Hoffman is busy teaching many harp and piano students in her private studio.
She is a specialist in performing on the Kong Hou Chinese harp, an ancient Chinese musical instrument which has been adapted using modern technology. She has been involved in original research on the historical and cultural influences of the Kong Hou in Asian music, its development from ancient through modern times. She has composed music including ancent, folk, and modern themes for solo and ensemble combinations on the Kong Hou. She has participated in harp conferences, lecturing, demonstrating, and performing on her unique instrument.
At the end of 1999, she released Ballad, her first Kong Hou CD, featuring her own compositions and arrangements. A second CD, Blessing, with selections of both the Kong Hou and classical harp, was released in 2003.
As a classical and folk harpist, Joy Yu has toured many states: Hawaii, Florida, Washington, Ohio, Indiana, Michigan, Montana, and Wisconsin. She participated in the 34th National Convention of the American Harp Society in Cincinnati, Ohio, the 9th International Society of Folk Harpers and Craftsmen Conference in Monterey Bay, California, and the 10th International Society of Folk Harpers and Craftsmen Conference in Bloomington, Indiana. This past summer, Joy participated in the HarpCon 2005 in Bozeman, Montana, and the 9th World Harp Congress in Dublin, Ireland.
As a music missionary, Joy has toured China, Hong Kong, Korea, Kenya, and the Republic of South Africa with His Command Performance.